Stone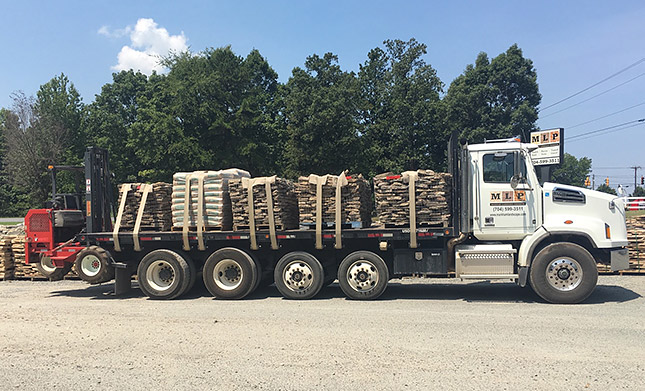 MARKHAM Landscape Products has the largest variety and inventory of building stone in the Charlotte area. We have stone for all types of applications: If you have a unique need, we can special order the stone you want.

We deliver stone with our rock truck and forklift so that we can place it where you want it.


Flagstone

|

Thin Cut Stone

|

Thick Cut Stone

|

River Stone

|

Cut Pattern Stone

|

Fieldstone

|

Boulders / Fieldstone Steppers

|

In-Stock Specialty Stone

|

Natural Veneer Stone


Cut Pattern Stone
Cut Pattern Stone is a traditional patio material that has been used for hundreds of years. It is available in various colors, and the sizes are cut on a 6" module starting at 12"X12" and ranging up to 24"X36". Step treads and special orders are also available.

1 Special Order Only.

Click on the images below to view a larger display.


Castle Grey Flooring
French Pattern, 12x24, 24x24

Buff Pattern Flooring
French Pattern, 12x24, 24x24

Country Classic Travertine
French Pattern and Coping Available

Noce Travertine
French Pattern and Coping Available

Ivory Travertine
French Pattern and Coping Available

Silver Travertine
French Pattern and Coping Available

PA Bluestone Pattern
12"x12", 12"x18", 18"x18", 18"x24", etc.

PA Bluestone Pattern
12"x12", 12"x18", 18"x18", 18"x24", etc.

PA Bluestone Treads

PA Bluestone Custom Orders

Rainbow Pattern 1
12"x12", 12"x18", 18"x18", 18"x24", etc.

Rainbow Pattern 1
12"x12", 12"x18", 18"x18", 18"x24", etc.

Rainbow Step Treads 1
2"x12"x48"

TN Crab Orchard Mantels

TN Crab Orchard Pattern

TN Crab Orchard Pattern

TN Crab Orchard Step Treads

TN Crab Orchard Step Treads